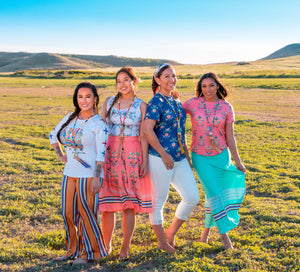 Matriarch Collection, Spring/Summer 2020 Look Book
---
Original Art & Design by Lauren Good Day
Award Winning Arikara/ Hidatsa/ Blackfeet/ Plains Cree Artist 
*
Matriarch
Spring/Summer 2020 Collection
Resilience, Rebirth & Resurgence.

We are still here. Indigenous Mothers, future generations, Matriarchs.
Exemplifying cultural aesthetics of the Mandan, Hidatsa & Arikara Nation with the history of trade epicenter villages of the Great Plains. Bridging tradition of excellence with cultural continuance. Bright bold feminine colors, beaded florals, geometric patterns, Teton Trade Cloth inspirations and ledger art celebrating the beauty of womanhood on specialty designed patterns, prints and silhouettes for Summer.
Authentic contemporary Native design rooted in cultural knowledge and tradition for all Nations.
Photographer

Collin Tru Hale
Mideegaadi Maa?iagash "Buffalo Looking" (Hidatsa/Mandan/Navajo)
Jocy Bird (Mandan, Hidatsa, Arikara, Dakota)
Eahtosh Bird (Mandan Hidatsa, Arikara, Dakota, Lakota)
Skye Hall (Hidatsa/Mandan)
Jayli Fimbres
(Mandan, Hidatsa, Arikara)
Shot on location at the MHA Earthlodge Village along the banks of Lake Sakakawea, Fort Berthold Reservation, North Dakota

A special thank you to the MHA Nation Tourism Department and
Sorry, there are no products in this collection.